VEHICLES

To reduce road & engine noise treat the floor pan, strut towers, firewall, doors, trunk, roof and dash panels.

STEREO SYSTEMS

Audio system performance can be improved by treating panels next to speakers or as part of a speaker enclosure.

PIPES & TUBING

Use as a wrap for metal or plastic as used in plumbing drains or hydraulic systems to muffle noise.

BOATS

May be used for bulkheads, decks, tanks, engine room ventilation ducting, fiberglass exhaust silencers & tubing.

SikaDamp 630 peel & stick sound dampening sheets are easy to use. Simply trim the SikaDamp sheet to the desired shape with a scissors or knife. Then peel off the bottom layer to expose the sticky side. Apply the sticky side directly to the surface being modified. That's it. Click here for additional tips.
Surface Preparation
For best results, surfaces should be clean and free from grease, oil and dust. SikaDamp 630 has tackifying agents that help it adhere to almost any surface.
Adhesion and Durability
SikaDamp 630 has demonstrated excellent adhesion to CRS, galvanized and galvanneal steel, ELPO and basecoat and clearcoat body panels.
Its outstanding adhesive performance allows it to maintain its position in the most demanding vertical and inverted applications, even at elevated paint bake temperatures. SikaDamp 630 maintains its acoustic and adhesive properties after subjection to the various test conditions used in the automotive industry.
Material Properties Appearance:
Tacky mastic with aluminum
Color:
Black
Specific Gravity:
1.03 +/- 0.05
Non-Volatile Content:
99% minimum
Flash Point:
248°C
Flammability:
Passes with a rating of B < 1.0
Peel Adhesion:
OCRS 7-10 pli avg. ED Coat 7-10 pli avg.
Application Temperature:
15°C to 43°C recommended
Corrosion Resistance:
Resistant to water and salt
Shelf Life:
3 years if stored below 35°C
Acoustic Performance
SikaDamp© 630 (part 90934) is a technologically advanced formulation that offers superior damping performance at a reduced weight over traditional mastic constrained layer and asphaltic extensional dampers. The damping performance is maintained from –10°C to 60°C allowing use in any area of the vehicle.
Safety and Handling Instructions
Caution: Always practice proper personal hygiene procedures after using this product. Consult the Material Safety Data Sheet for further safety and handing instructions.
For information and advice regarding transportation, handling, storage and disposal of chemical products, refer to the actual Material Safety Data Sheets containing physical, ecological, toxicological and other safety-related data.
Legal Notes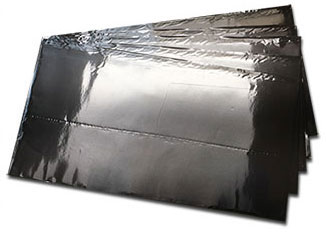 The information, and, in particular, the recommendations relating to the application and end-use of SikaDamp 630, are given in good faith based on SikaDamp's current knowledge and experience of the products when properly stored, handled and applied under normal conditions.
In practice, the differences in materials, substrates and actual site conditions are such that no warranty in respect of merchant-ability or of fitness for a particular purpose, nor any liability arising out of any legal relationship whatsoever, can be inferred either from this information, or from any written recommendations, or from any other advice offered. The proprietary rights of third parties must be observed.
All orders are accepted subject to our current terms of sale and delivery. Users should always refer to the most recent issue of the Technical Data Sheet for the product concerned, copies of which will be supplied on request.